OVERVIEW
If you have a chance to pass by the Crescent Lake area in district 7, feel free to stop by our Restaurant at the Crescent Building, 107 Ton Dat Tien Street. Founded in 2010 with a distinguished European architectural facade, and located upon the most valued location right in front of the renowned Crescent Lake, Boomerang Restaurant has long been our customers' trusted place for a quality dining experience with friends and family.
With over 10 years of experience, we are confident in the diverse choices we offer: from a nice cup of Italian coffee, to a delicate plate of dessert, we assure you only the best of quality and a wonderful dining experience here at Boomerang.
MISSION
Our mission and goal is to cultivate and deliver to our customers a good mixture of dishes from various cultures, as well as to develop our own signature dishes that typically combine the unique flavours of Western with Eastern cuisines. At Boomerang Restaurant, each dish not only is meticulously prepared with excellent ingredients and beautifully presented ton our diners, but also represents the culinary stories behind our renowned Chef's innovative culinary skills.
VISION
With utmost determination and commitment, Boomerang Bistro Saigon will nonstop improve the quality of foods, maintain the best of service, and continue to be our customers' trusted and valued restaurant.
RESTAURANT'S SERVICES AND ACTIVITIES
ACTIVITIES
Coming to Boomerang, the diners will have the opportunity to take part in many exclusive and enticing restaurant-organized activities
ACHIEVEMENTS
Boomerang is proud to be one of the European Restaurants that serve customers Saigon's finest beefsteak
undefined
SERVICES
Boomerang is among the top-rated restaurants in Saigon. Boomerang's splendid, modern internal design, accomodated with a professional conference arena along with essential equipments and instruments, is indeed a perfect venue for birthday, wedding parties, or any other kinds of gatherings, workshops, and events. More than 1,000 events and workshops by hundreds of trusted customers and cooperations had been held here at our restaurant over the last 10 years.
Boomerang
Special Pho
✻
In the nice chills of an early morning, what better way to start your day than to savour the magnificent view of the Crescent Lake while enjoying a steaming bowl of Pho with fresh pieces of steak and sizzling, tasty soup. While maintaining the traditional flavour of Pho, our talented Chef has recreated this special Vietnamese delicacy in a unique way to make this one of our signature dishes.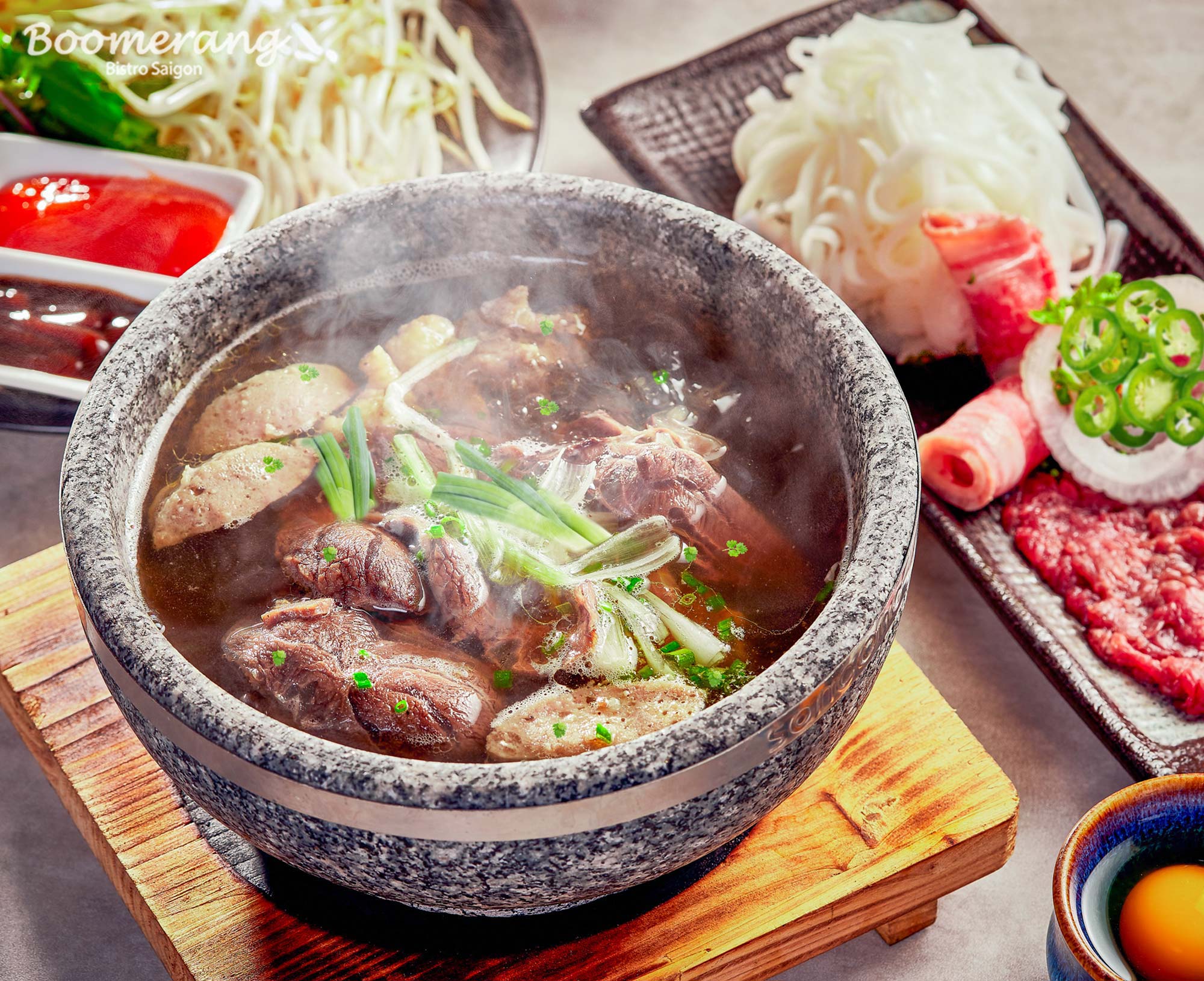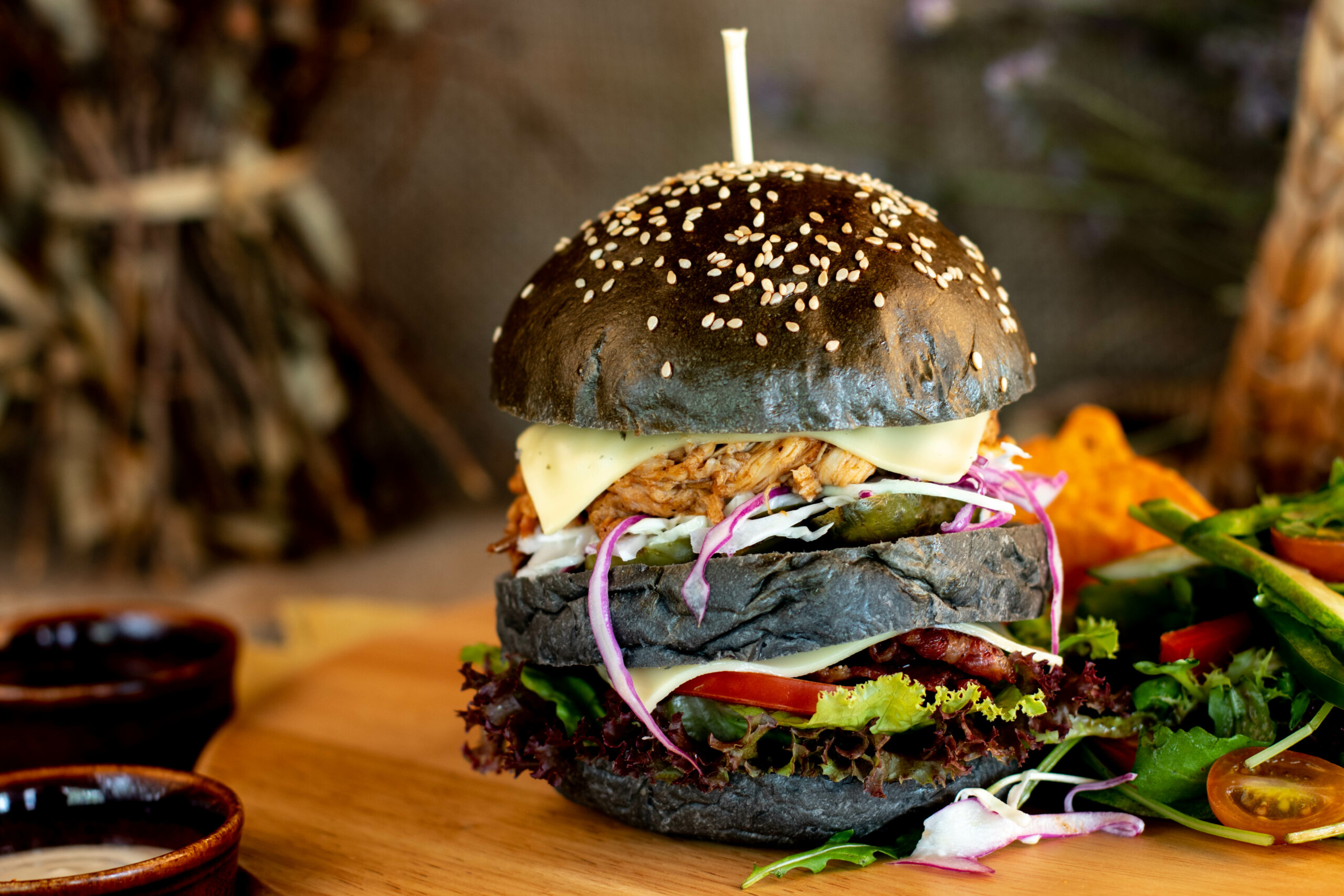 Boomerang
Burger
✻
As for Western dishes, Boomerang's special burgers is a must-try! Our Chef, with over 10 years of experience, has never failed to please our diners with a variety of delicious burger dishes creatively served in all kinds of shapes and flavours.
Boomerang
Pizza
✻
Arouse your taste buds with freshly out-of-the-oven slices of Boomerang's signature pizzas that is fully topped with diverse choices of excellent ingredients and hand made by our respected Chef.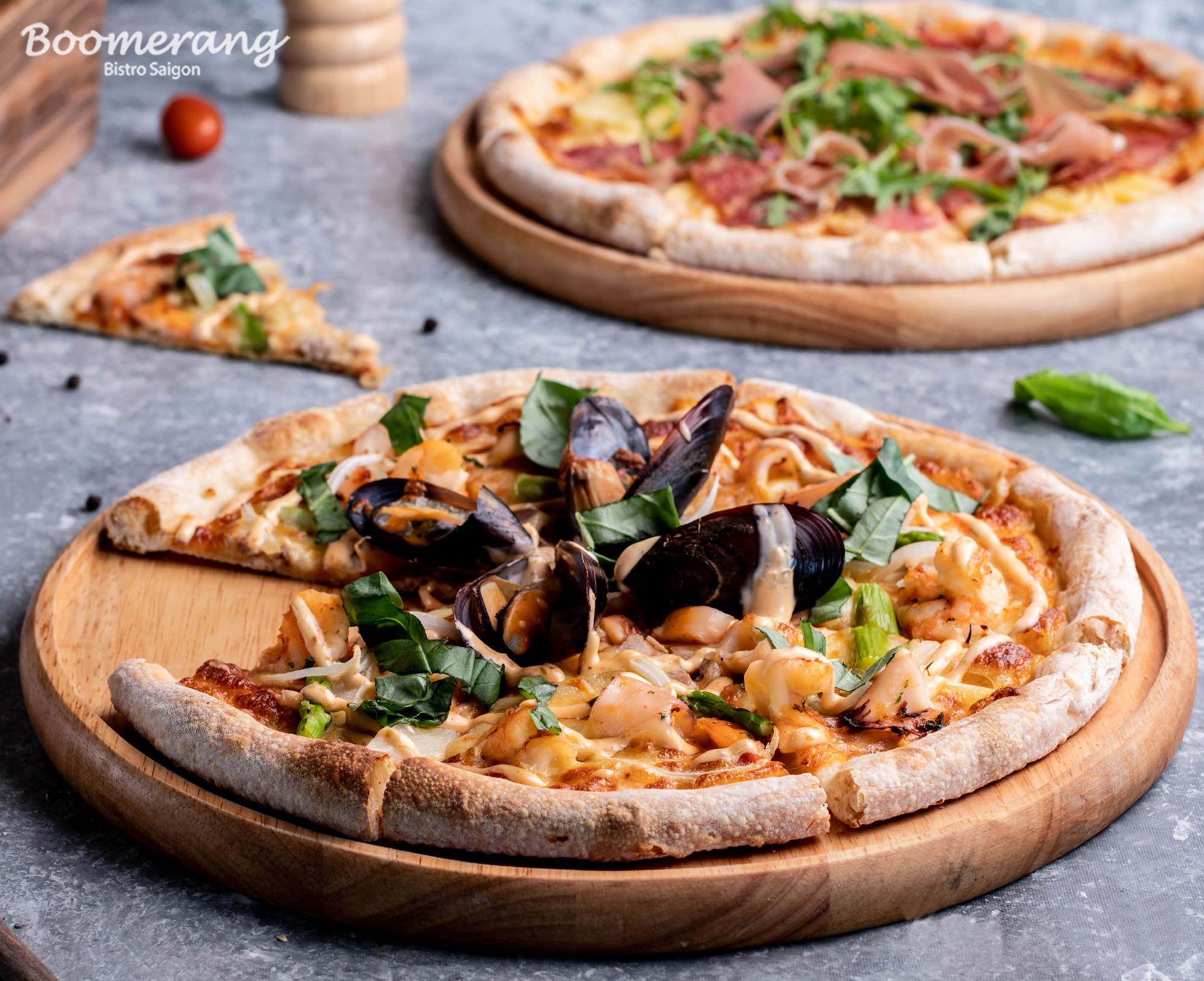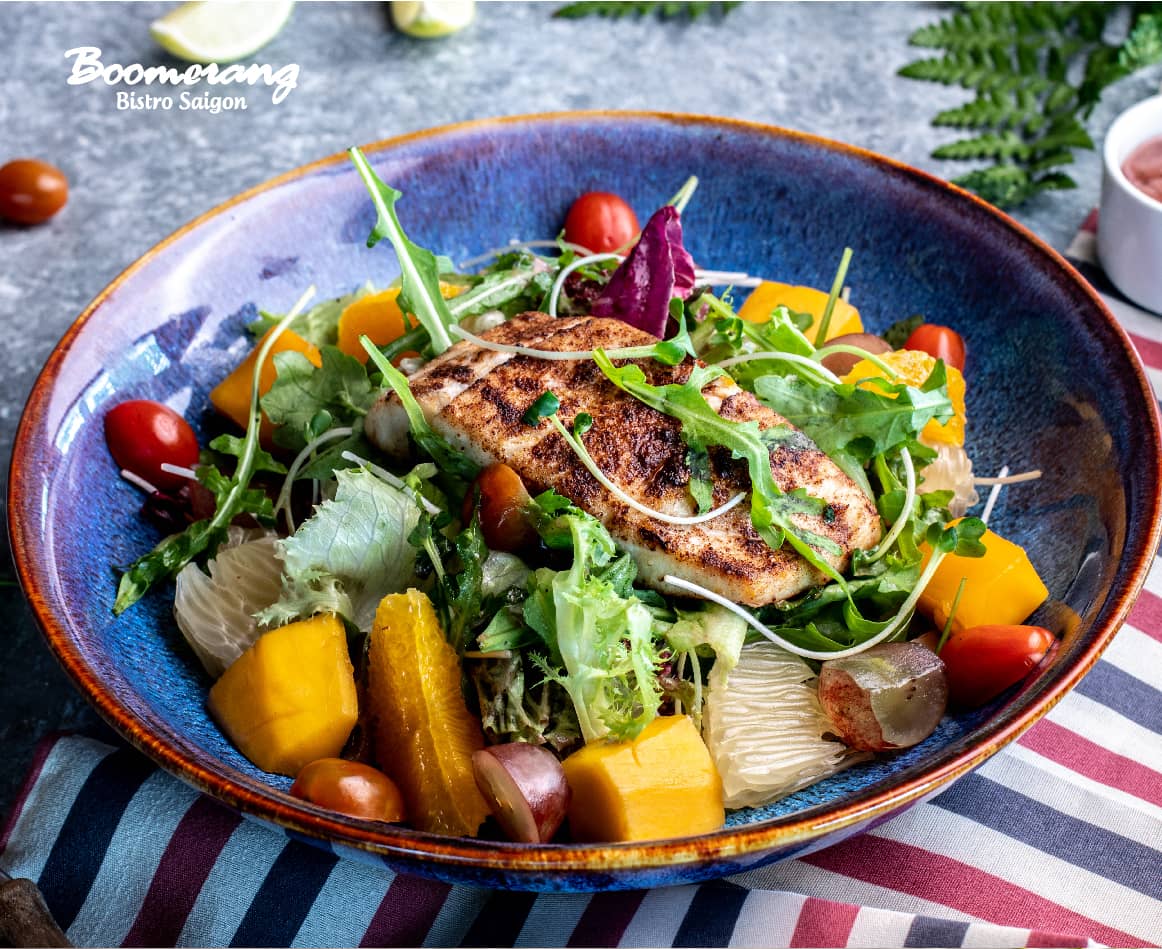 Boomerang
Salad
✻
Our talented Chefs are here to serve you their delicious, healthy salad dishes in our unique culinary style that you can't find elsewhere. At Boomerang, we assure you a quality dining experience with the finest pick of fresh ingredients, along with elegant presentations and best efforts in service.
Boomerang
Cocktail
✻
For the typical Western cuisine culture, one of the best ways to fully enjoy your meal is to have in hand nice Cocktail drink. We are proud to have a lavish bar right at our restaurant with our professional bartenders, that can help elevate your night out with amazing, spectacular glasses of Cocktail .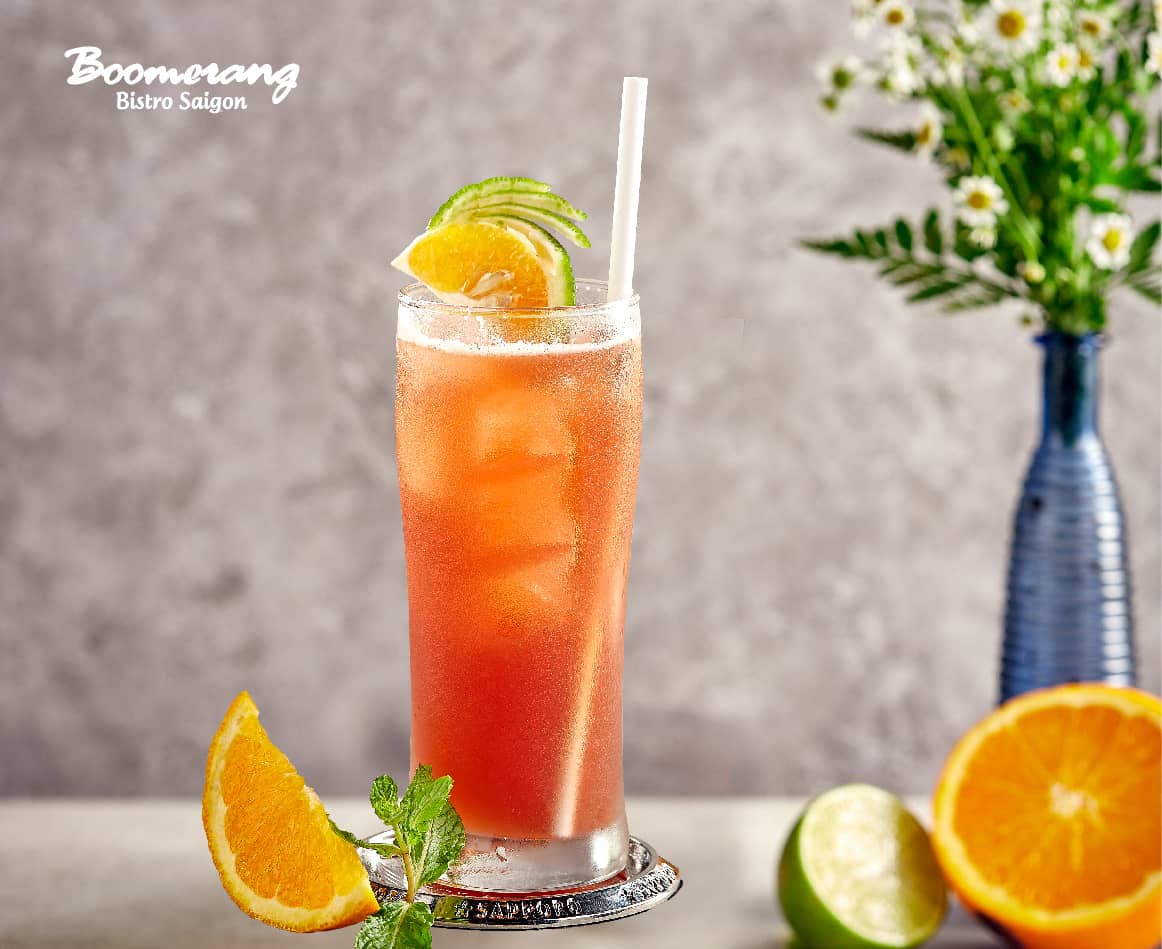 ✻
OUR STORY
Every month, Boomerang organizes entertaining events to engage with the community
For more information, please reach us at : 090 186 8000