This november, enjoy a fancy Special Lunch with our special offers
---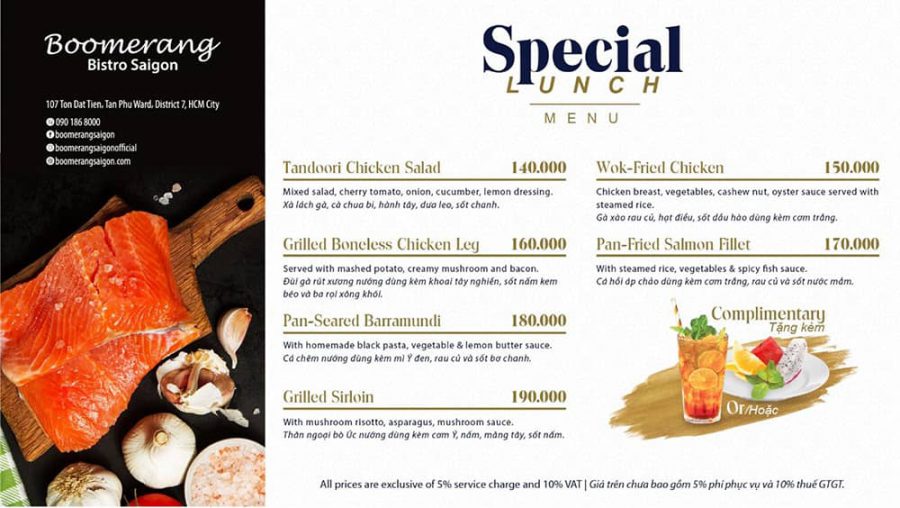 As a response to the success of our pre-existing menu, Boomerang Bistro Saigon would like to bring to you a new 𝐒𝐩𝐞𝐜𝐢𝐚𝐥 𝐋𝐮𝐧𝐜𝐡 with fine European-Australian dishes in their own unique styles and variations.
You can enjoy exquisite dishes such as Tandoori Chicken Salad, Grilled Boneless Chicken Leg, Pan-Fried Salmon… every noon this November at Boomerang restaurant.
Furthermore, diners get the opportunity to receive these amazing special offers:
One FREE Lemongrass Tea
OR
One FREE small Fruits plate
for each lunch
Our new 𝐒𝐩𝐞𝐜𝐢𝐚𝐥 𝐋𝐮𝐧𝐜𝐡 offers will be available starting from November 2, 2020. Come to Boomerang in November to enjoy a great fine dining experience through with our chef's creative innovations of delicate and nutritious dishes of Euro-Australian cuisine.