GOOD MORNING DECEMBER
---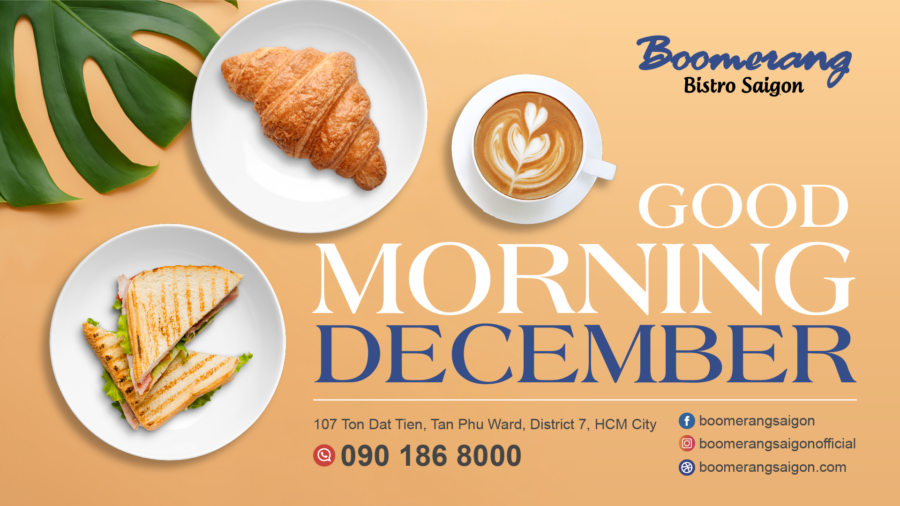 Choose to start your day by your way:
– If you like to enjoy a light morning, order yourself a cup of hot Cappuccino served with salted egg croissant to feel the warm flavor blending and slowly spreading in the body.
– If you want to start your day very refreshed and excited, don't hesitate to order a cup of ice Vietnamese milk coffee, accompanied by a sandwich with smoked honey ham so that the sweetness and bitterness of milk coffee blend together. The taste of the food, helps to awaken all the senses.
Come to Boomerang now to experience the full Good Morning December combo:
MORNING 1: 1 Hot Cappuccino / Hot Latte / Hot Long Black / Ice Vietnamese milk coffee + 01 salted egg croissant: 135.000 VND
MORNING 2: 1 Hot Cappuccino / Hot Latte / Hot Long Black / Ice Vietnamese milk coffee + 01 White sandwich (served with honey ham, cheddar cheese and rocket salad): 165.000 VND
————————————-
BOOMERANG BISTRO SAIGON
🌐 https://boomerangsaigon.com
📞 090 186 8000