Celebrate Our 10th Birthday With Marvelous Special Offers
---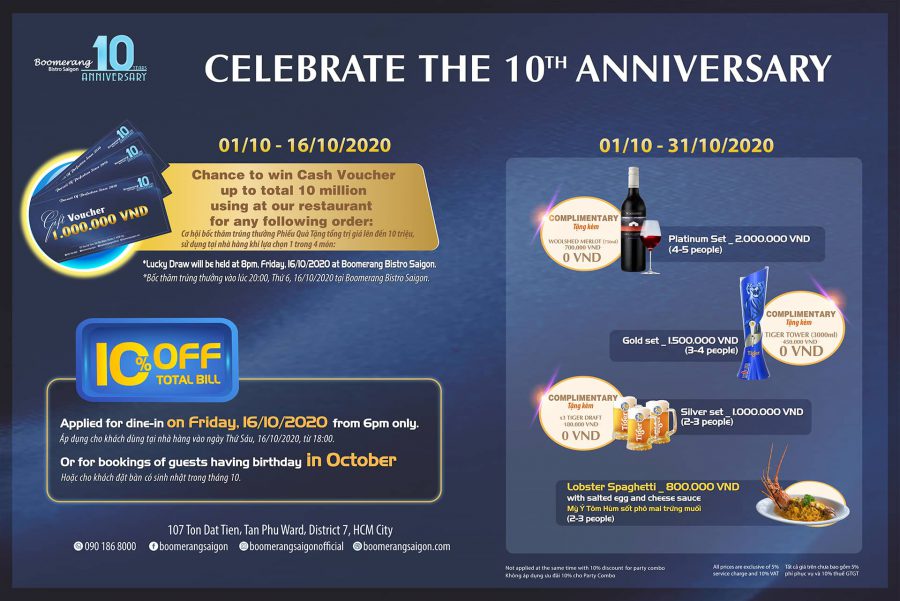 On our 𝟏𝟎th birthday, Boomerang Bistro Saigon would like to thank all our dear customers for your love and support with the greatest promotion there has ever been:
A 𝟏𝟎% discount for diners who have birthdays in October when making reservations at Boomerang.
A chance to acquire a lottery ticket with the total prize value of up to 𝟏𝟎 million VND.
Furthermore, our guests can immerse yourselves upon harmonious melodies of live music, while enjoying the amazing promotional offers that we have here at Boomerang: a 𝟏𝟎 % discount for all guests on October 16, 2020, starting from 18h00 onward.
Terms and Conditions:
Valid from October 1, 2020, to October 31, 2020
Winners will be announced at 20:00 on October 16, 2020
Lottery tickets are gifted to customers who order special party menu or lobster spaghetti with salted-egg and cheese sauce
All offers are exclusive and not valid in conjunction with any other discount offers and promotions.
Wait no more, come to Boomerang now to celebrate this special day with us and enjoy exquisite dishes and these marvelous offers!. Call us now at: 090 186 8000 or order through website: https://boomerangsaigon.com/en/reservations/